PREMIUM LABS 23 BCAA Instant 9000 400g (instanizowane)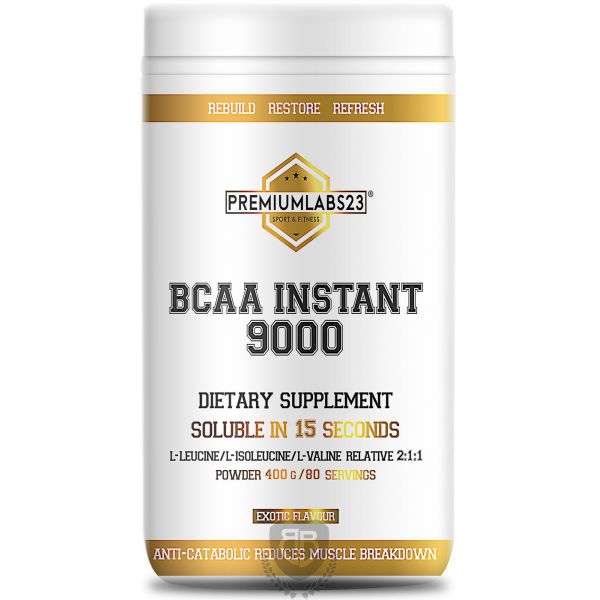 Już 449 Klientów
Best Body stosuje ten produkt.
Opis i skład produktu
Opis produktu
Premium Labs 23 BCAA Instant 9000 - to prawdopodobnie najlepsze składowo aminokwasy rozgałęzione o prawdziwym stężeniu sięgającym 90%, bez udziału glutaminy, tauryny czy innych wypełniaczy sztucznie podbijających wartość odżywczą produktu. Oparte są o instanizowany surowiec co zapewnia znakomitą rozpuszczalność, a mimo tak wysokiego stężenia walory smakowe są na wyjątkowo wysokim poziomie.

90% Aminokwasów w smakowym produkcie!
Pełna rozpuszczalność po 15 sekundach
Doskonały smak
Ultra skoncentrowane składniki aktywne
Optymalna regeneracja po wysiłkowa
Nasila anabolizm, hamuje katabolizm
Idealne proporcje pomiędzy aminokwasami

BCAA Instant 9000 to aminokwasy rozgałęzione, które są podstawą suplementacji każdej osoby aktywnej fizycznie, niezależnie od charakteru podejmowanego wysiłku. Posiadają szereg różnych funkcji które pełnią w naszym ciele, a co bardzo istotne zapotrzebowanie na BCAA u osób prowadzących sportowy tryb życia rośnie niemal kilkukrotnie w porównaniu do nie trenujących ludzi. Ryzyko niedoborów jest duże, ponieważ zarówno leucyna, izoleucyna jak i walina nie mogą być syntezowane przez organizm z innych aminokwasów, ale muszą być dostarczone w postaci źródeł białka w których mają spory udział bądź pod postacią suplementu.

Od bardzo dawna BCAA uznawane są za najskuteczniejszy, a z całą pewnością najpopularniejszy antykatabolik w świecie suplementacji. Dzieje się tak ponieważ około 1/3 tkanki mięśniowej jest zbudowana właśnie z tych trzech aminokwasów. Posiadają one również funkcję energetyczną, mimo że są to białka, jednak zdolne by w chwilach kryzysowych zastępować cukier w naszej krwi. Innymi słowy podczas ciężkiego treningu, gdy opróżnione zostaną już nasze zapasy glikogenu organizm będzie chciał go pozyskać by dalej pracować wydajnie. W tym celu rozbite zostaną nasze struktury mięśniowe by pozyskać cenne aminokwasy. Porcja około 5-10g Premium Labs 23 BCAA Instant 9000 , zależnie od masy ciała przyjęta przed treningiem pozwala niemal całkowicie zapobiec utracie cennej masy mięśniowej w trakcie treningu.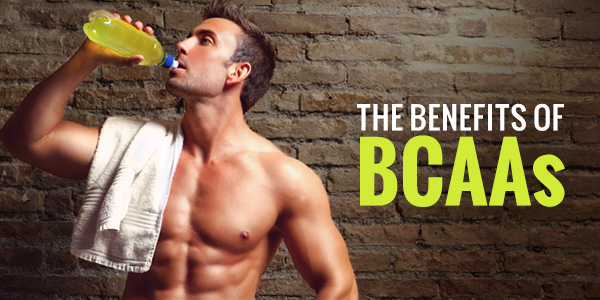 Codzienne spożywanie optymalnych dawek tych trzech kluczowych dla nas aminokwasów znacząco przyspieszy regenerację pomiędzy poszczególnymi sesjami treningowymi. W przypadku osób o bardzo intensywnym rozkładzie zajęć i ograniczonym czasie na odpoczynek, aminokwasy BCAA mogą zyskać miano nawet niezbędnych, jeśli nie chcemy dopuścić do szybkiego przetrenowania lub spadku efektywności wysiłku.

BCAA Instant 9000 to zdecydowanie jedna z najlepszych pozycji na rynku w swojej kategorii. Stężeniem ustępuje jedynie produktom całkowicie pozbawionym słodzików i nie posiadającym żadnego smaku. Często jednak nie mogą być one stosowane przez osoby o nieco bardziej wyrafinowanym podniebieniu oraz w przypadku kiedy stosujemy kilka produktów w jednym szejku i nie chcemy psuć Jego smaku. BCAA Premium Labs23 są skuteczną alternatywą dla tego typu produktów, a co najważniejsze w atrakcyjnej cenie. Występują w kilku znakomitych smak, przez co możemy zapomnieć że pijemy naturalnie gorzkie aminokwasy, ponieważ system smakowy został dopracowany do perfekcji.


| | | |
| --- | --- | --- |
| Składniki aktywne: | Ilość w porcji 5g | Ilość w 100g |
| Suma aminokwasów rozgałęzionych BCAA, w tym: | 4,5g | 90g |
| L-leucyna (instant) | 2,25g | 45g |
| L-Izoleucyna (instant) | 1,125g | 22,5g |
| L-Walina (instant) | 1,125g | 22,5g |


Wielkość porcji: 5g (1 miarka)
Ilość porcji w opakowaniu: 80
Skład

Notice: Undefined offset: 0 in /home/klient.dhosting.pl/bestbody/bestbody.com.pl/public_html/modules/bestbody/bestbody.php on line 270

Dawkowanie i sposób użycia
Dawkowanie i sposób użycia
Dawkowanie i sposób użycia: stosować 1 porcję BCAA 9000 przed i po wysiłku fizycznym. Rozpuścić 1 płaską miarkę w 50ml wody.
Badania i referencje
Exercise Promotes BCAA Catabolism: Effects of BCAA Supplementation on Skeletal Muscle during Exercise.
https://academic.oup.com/jn/article/134/6/1583S/4688850?ijkey=44f687f4de91530fd91697d836a8a8b3ad215411&keytype2=tf_ipsecsha
Effect of Branched-Chain Amino Acid Supplementation on Recovery Following Acute Eccentric Exercise.
https://www.ncbi.nlm.nih.gov/pmc/articles/PMC6212987/
Branched-chain amino acids and muscle protein synthesis in humans: myth or reality?
https://jissn.biomedcentral.com/articles/10.1186/s12970-017-0184-9
Leucine supplementation and intensive training.
https://pubmed.ncbi.nlm.nih.gov/10418071/
Effects of Whey, Soy or Leucine Supplementation with 12 Weeks of Resistance Training on Strength, Body Composition, and Skeletal Muscle and Adipose Tissue Histological Attributes in College-Aged Males.
https://www.ncbi.nlm.nih.gov/pmc/articles/PMC5622732/
Opinie(7)
Opinie o PREMIUM LABS 23 BCAA Instant 9000 400g (instanizowane)
Inni Klienci kupili również
Najpopularniejsze suplementy w tej kategorii